News
Big capacity eps hot melting machine from China
Eps hot melting machine can work on your eps styrofoam waste like eps box package,food container,eps insulation blocks etc into eps dump which can greatly reduce the size of eps styrofoam waste.The problem for eps styrofoam waste is the big size and low density.The eps hot melting machine can solve the problem.

The machine take the combo function of shredding and hot melting.Pls see below picture.The shafts inside the machine can shredder the foam waste and the shredded scraps will be filtered ed by the mesh screen,then,the hot melting cylinder will melt the scraps and it becomes dump with the hot temperature inside the cylinder and the dump will be extruded from the cylinder end.
The eps melting machine can be larger capacity than the small eps melter in the market.The whole design is for better capacity,from the bigger inlet,larger diameter of shaft,higher kw of motors and bigger melting cylinder etc.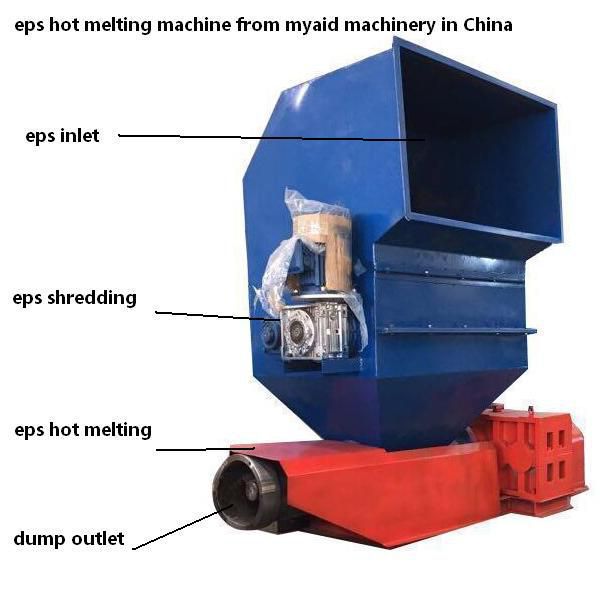 The eps hot melting machine is good business to invest and get profit,less cost and more margin in recycling lines.Because there are more foam wastes in our daily life like the home appliance packages and wall insulation blocks etc,so,the demand for recycling the foam wastes are obvious in our life.But there is difficulties in handling with the waste,like big size and small weight.It take too much space and it can be easily flies in the air for its light weight.
Where there is demand,where there is solutions.The eps hot melting machine can make the waste into eps dump which is greatly reduce the original size of eps waste.The machine is easy to operate and low cost for the end users.
Myaid machinery supply different models of eps hot melting machine from China,welcome to enquire with us.
Product Category
Live Help
0086 13833131292
0086 311 86558425
Friend Links