News
What is EPS recycling granulator machine?
The EPS recycling granulator is designed for recycling the EPS waste into EPS particles which can be used in plastic making application.The EPS waste can be in different status like EPS loose foam,hot melt,densified cold bricks.They will need different machines to crush and extrude particles.You can ask from us for professional advice with your recycling application.
The EPS recycling granulator can be named as EPS pelletizer or EPS pellet machine or EPS pelletizing machine as it varies from different regions.The application of recycling granulator can be for EPS,XPS and EPE materials.No matter what name the machine has,it has the below workflow: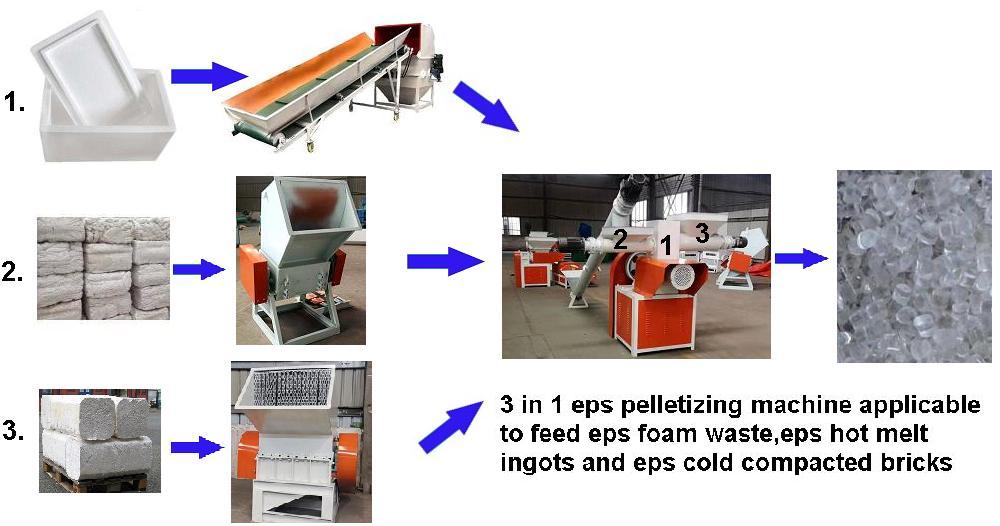 1) The EPS waste feed into the EPS crusher,either normal machine or heavy duty machine;
2) After crushing,the EPS waste conveyed into silo of the primary unit of EPS recycling pelletizer machine
3) The mixing process of different materials(if any),and then melt by primary unit;
4) The melting will be extruded into foam strand and output by die head;
5) The foam strand will be cooled in water tank;
6) The foam strand will be cut into particles;
7) The EPS particles will be conveyed to storage tank.
Q: Do you still having trouble for always exchanging screen mesh on die head of the recycling machine when pelletizing?
A: Our EPS pelletizing machine use newly meshless die head and it need no screen mesh,it can remove the dust in the foam automatically.

Product Category
Live Help
0086 13833131292
0086 311 86558425
Friend Links