News
How independent axis control works in CNC foam 3D cutting machine
CNC hot wire 3D cutting machine with turntable
from China can be independent axis operation with full computer control. The rotary table is by planetary transmission with stepper motor on CNC cutter. The cutting tools are hot wire,i.e. NiChrome wire . It can cut eps (expanded polystyrene)and xps(extruded polystyrene) foams with 3D shapes including asymmetrical shapes and symmetrical shapes.
The technician need install the single profile view of the cutting object and load it in CAD software of CNC cutter.Then set the facet value. you need prepare the each profile view f the object which is equal to the final sides,how many profiles it has,then,how many sides it will be in software.The software can automatically set the rotary situations.The hot wire cuts and the table rotates at the same time. For example,when you cut the twisted object,you need specify the required rotation. The CNC nichrome wire 3D cutting machine will automatically work.
Each axis is connected with stepper motor,CNC can control the motion of stepper motor independently. In details, X axis and its frame horizontally motions with table: two stepper motos with independent controller+horizontal screw+slider .Y axis and its frame motions vertically with table:two stepper motors with independent controller on two vertical frames + vertical screw +slider. The hot wire will cut the foam. The hot wire cutting routine is controlled by the 4 axis, and pulse signal from controller for controlling of the axis motion.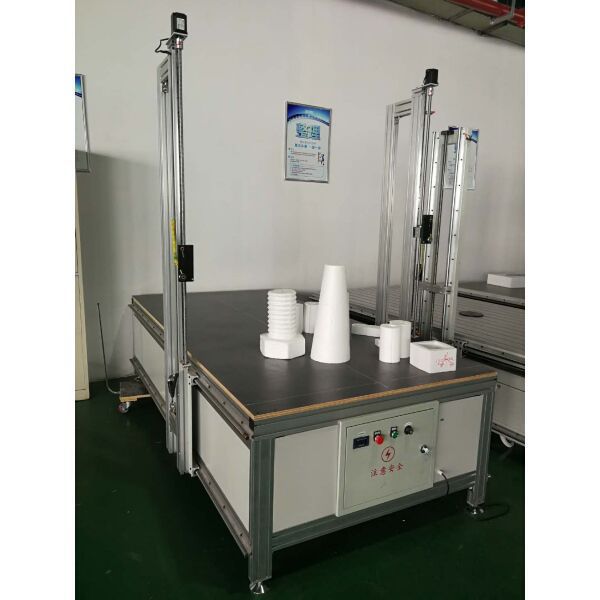 The advantage of the hot wire CNC foam cutting machine.
why the 4 axis CNC foam cutting machine flexible? Because it has more axis and each axis can be independently controlled thru CNC software. The shape can be changed flexibly through computer programming on CNC cutter. The flexibility of hot wire CNC foam cutting machine supports more and more individualized processes, and, it reduces the number of molds used than other machine with the different method of making moulding with molds .
Compared with traditional cutting processes such as manual cutting and semi-automatic cutting, the precision of hot wire CNC foam cutting machine is much higher. At the same time, the pause time can be set according to the foam board with uneven humidity to ensure the cutting shape.
The metal frame and stepper motor on the cnc foam cutting machine can make the CNC cutter machine work very smoothly and accurately.It is even more accurately than other machine with different materials frame like aluminum frame.
At present, the cutting process of the hot wire CNC foam cutting machine has matured and is becoming more and more popular in the market, and this is due to the advantages of the CNC foam cutting machine itself. The quality of the hot wire CNC foam cutting machine is really a key in doing with your work.
Product Category
Live Help
0086 13833131292
0086 311 86558425
Friend Links