News
Comparison of Eps foam mouldings and traditional mouldings
Eps foam mouldings have more advantage than traditional mouldings....
There are three types of traditional mouldings:concrete pouring mouldings,GRC prefab mouldings, gypsum mouldings.There are some disadvantage of the traditional mouldings,eps mouldings can be a good technical substitute for them.
Concrete pouring mouldings need to be poured at site,molding for making can be used by one time,it is big waste,and the molding can be easily to be expanded.Even the size is difficult to control.Worsely, it has no insulation effect.
GRC mouldings are heavy and it makes it difficult to work on high place,the size is not precise,joints are not good to work.The steel expanded screw for it can be easily to be rusted, the rust will affect the visual effect.Joints can be easily to creaks,no waster proof and no insulation.
Eps mouldings are light weight,good sticking,versatile mouldings types,easy installation,no gap between mouldings,good insulation,it is enhancement for traditional mouldings.
That is why eps foam mouldings are populiar now, esp European stype decorative mouldings are populiar in China...and we can introduce that eps foam mouldings are made by our eps moulding CNC cutting machine, and then,coat motar on eps mouldings by eps coating machine. Finished mouldings will be made ready.
Pls check our
eps moulding cutting machine
and
foam coating machine
,if you are deciding to open up factory for making eps mouldings.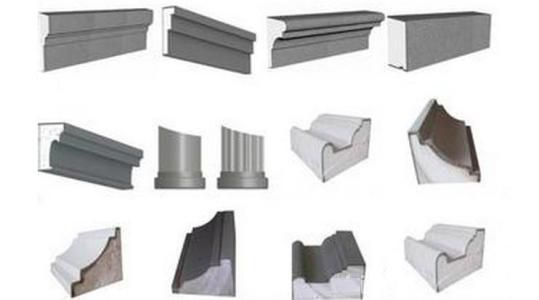 EPS decorative line is a new type of exterior wall decoration line and component, which is made by
CNC cutting machine
and foam coating machine,it is more suitable for installation. On the external wall EPS and XPS insulation wall, it can reflect the European classical and elegant decoration style. It is very difficult to install cement components and the construction period is long. Cracks occur for a long time, and the durability is poor. The EPS decorative line has the advantages of convenient installation, economy and long durability. With the continuous development of the building decoration industry, more and more new materials are constantly emerging. EPS lines are the object of more and more people, and more and more companies are entering EPS lines, some of them. Professional companies stand out. For example, Yunou CNC. Not affected by temperature changes, cold and heat resistant; not affected by moisture and acid rain. EPS decorative lines are fireproof and do not emit toxic substances. They are environmentally friendly high quality decorative building materials. EPS decorative lines are cut by computer numerical control, which is quick to make and has many varieties and models, such as lines, Roman columns, window covers, bucket arches, etc., which can be installed on the four sides of the window, the door side, the corners and the wall; the facade of the building More beautiful, more innovative designers bring new and different ideas.
1. Labor saving, time saving, material saving, simple construction and low cost;
2. Light weight, easy to handle and high safety;
3. The joints are not cracked, waterproof, tamper-proof, weather-resistant and durable;
4. The surface of the modeling structure is fine, uniform and accurate in geometric dimensions;
5, the appearance of high-quality polymer mortar composite alkali-resistant mesh, good toughness and impact resistance;
6, completely solve the problem of cold and thermal bridges of thermal insulation walls, doors and windows, and good insulation resistance;
7, green pollution-free, energy-saving, environmental protection, low carbon;
8. Architects can boldly display their design concepts and architectural styles, fully demonstrating the smooth and elegant feeling of the building.
Product Category
Live Help
0086 13833131292
0086 311 86558425
Friend Links