The double shaft eps shredder with conveyor can shred eps foam waste into scraps with size from 5mm to 50mm,its capacity is from 200kg/h to 750kg/h.Its shafts are with simple design and high efficient design which can shred eps foam waste into scraps at big capacity.The shredded scraps will be blown by blower thru pipe to your silo.
The application of vertical EPS shredder is for recycling EPS,XPS,EPP,EPE,PU etc materials.Such as the eps foam materials,package materials,food container,insulation sheets,lost foam,mineral wool,sound proof sheets,heating materials etc.

Why us ?
1) It is low noise machine.You are able to enjoy your operation on machine because it is low noise.
2) Steel materials are thickened,you can keep the machine value after using it for years.
3) Practical design for vertical eps shredder and conveyor.
Machine models
Shaft dislay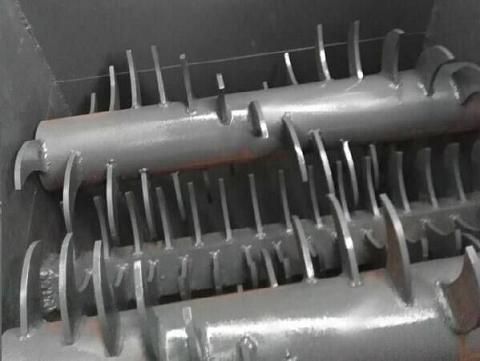 The steel knives enjoy with good wear resistance.it is processed with quenching fire,it is good hardness.
Related Items
Product Category
Live Help
0086 13833131292
0086 311 86558425
Friend Links