The foam compactor take spiral pressing device for compacting big size EPS/EPP/EPE waste into small densified size pieces.It enjoys with good compressing ratio,no extra chemical waste and no rare smell generated.The foam compacting machine can solve the problem of big size,transportation and recycling difficulty of foam waste.
The foam compactor can crush and compact original foam waste into densified bricks/ingots.

Model No.

Parameter(mm)

Power(kw)

Capacity

(kg/h)

Remark: Power options with Diesel/Electrical/Hydraulic
Recycling the EPS foam waste by compact it can largely reduce the volume.The scrap foam pieces are placed into a EPS compactor that will compress and press it, squeezing out the excess air from EPS pieces. Some EPS compactors can achieve volume reduction of up to 50 to 1 its original volume, which is reduction of about 98% its original volume.
Myaid Machinery supply machine stocks from foam compactor manufaturer in China,we own massive space for manufacturing and experienced engineer team to design and make machines.EPS compactor stocks are always available.welcome to see our machine performance and get the stocks at factory price.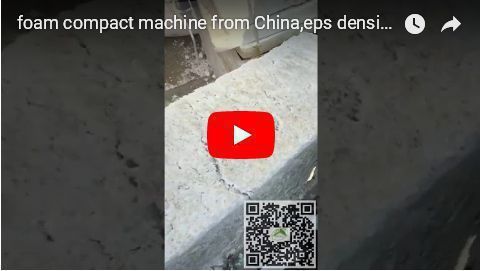 Related Items
Product Category
Live Help
0086 13833131292
0086 311 86558425
Friend Links